How to become an expert direct English teacher
---

Native teachers
You should be a native English teacher with a neutral accent.

Fully qualified
You will have a TESL/TESOL or TEFL certificate (120 hours).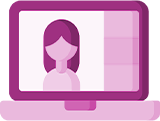 Teaching Experience
You will have at least one-year English teaching experience.
Being part of the Direct English team means you will receive:
---
The Direct English method uses a bespoke online platform with an integrated proven curriculum which was designed and developed by Louis Alexander along with a team of language experts. With these tools and the professional training, we provide, you can teach Direct English to teenagers and adults all over the globe from the comfort of your own home. 

Our Teachers
---
By HELEN | Teacher
A typical Direct English Live lesson
By LEON | Teacher
Tips for Learning English
By ZENA | Teacher
Why is DE Live so unique?
Questions about joining Direct English Live?
---
What tech do I require as a teacher?
- You will have a robust internet connection. 
- You will need a desktop or a laptop with Windows 10 or equivalent.  
- You will have a headset with a microphone.  
Is there anything else I require?
You should have a bright and clean teaching environment.  

You will have a bright and engaging personality.